I hiked Occoneechee Mountain State Preserve on a Sunday afternoon in June. The park is sandwiched in between I-85 and the Eno River and encompasses two high hills rising out of the Atlantic coastal plain, the namesake "mountain" and the smaller Brown Elfin Knob right next door. Really they're just big hills; actually, it's two peaks on one big hill. But we'll let it be a mountain if that's what it wants to be. This is a seldom-visited park. You will need to apply bug spray before you leave the parking area. Lots of bug spray. If you're troubled by the occasional spiderweb running across the trail, this probably isn't your park. That said, it's a most fascinating hike, especially if you're interested in seeing several different forest types in a short hike. I did not complete the entire trail network but hiked about 2 ¾ miles, during the course of which I passed through four distinct lowland forests and some upland areas.
The actual summit of Occoneechee is owned by Orange County, not by the state park system, but a trail will take you there. I didn't visit it, although at the time I thought I had. I started out heading left from the parking lot. This means that for the first part of the hike I paralleled the interstate, and although the forest is pretty and reasonably peaceful the traffic noise is actually pretty loud. We forget sometimes that our blueberries are but domesticated forms of plants that still grow wild in this area; the understory in this part of the park has at least three species of blueberries and huckleberries (
Vaccinium spp.
), in some places entirely covering the ground. The smaller huckleberry species in particular are more common farther west, but there were many lowbush blueberries as well.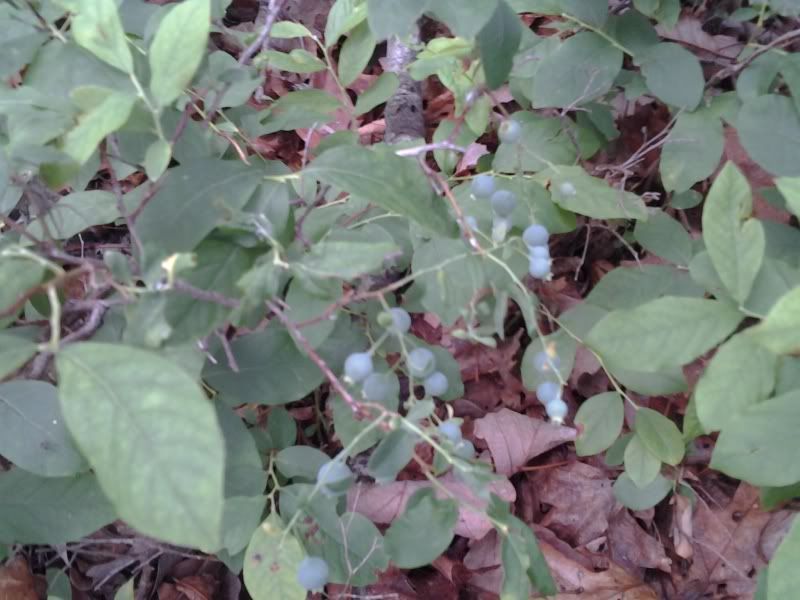 All were still green; some still had flowers. This would be a fun park to walk through in July when the berries are ripe, assuming the birds don't eat all of them first. The trail is clear but relatively narrow and has plenty of roots and other trip hazards, and thanks to numerous climbs and descents this would not be a very good park for any but experienced trail runners.
That said, experienced trail runners would enjoy what is probably the most challenging trail in the Triangle. As the trail turns north away from the interstate the vaccinium species thin out and are replaced by other understory plants including ferns and a large population of witch-hazel. You'll notice huge chunks of quartz sticking out of the ground every now and then.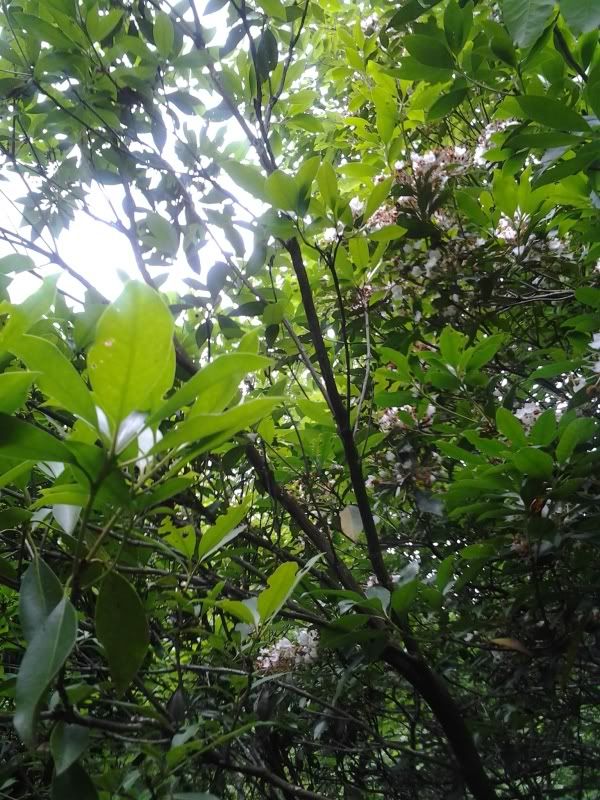 On the north side of the mountain you'll parallel the Eno River for a ways, and begin to see Mountain Laurel and some native azaleas. There's a short spur trail to a very nice swimming hole, though it is apparently on private property. (Still, there were several people swimming and I don't get the impression the private owners are terribly upset about it.) Past this short spur, both sides of the trail host quite the healthy population of poison ivy. Watch for it if you're susceptible. When the trail turns away from the river it ascends some stairs and a spur leads off to the "Occoneechee Quarry." I took the spur. The quarry turns out to be a huge face of quartz that's been just torn to bits; unmolested quartz rocks like this are found throughout the piedmont with names like "Shining Rock" or "Looking Glass Mountain" because the smooth face of the rock reflects the sun in early morning when damp with dew. At one time, Occoneechee Mountain looked like that. No more. You are specifically told not to engage in any rock climbing or rappelling activities on this degraded rock face, which is good advice because the rock is just broken all to hell and very friable, so put too much weight on any part of it and it would likely just break off and send you tumbling down the mountain into the river (this actually sounds like fun, until you consider that along the way you'd tumble across a bunch of very pointy rocks and through a whole field of poison ivy).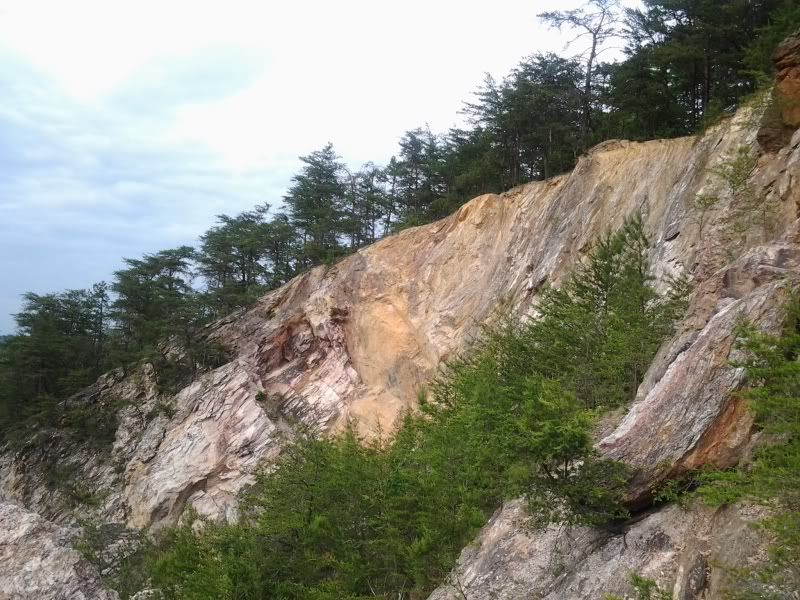 That said, there are a number of paths directly up the side of the mountain here that don't require any actual climbing, so I'll say what I did was hike very steeply uphill with some help from my hands. At the top, there's a wooden fence to hold visitors back from the edge. I took this to be the summit but later on reviewing MapMyRun's gps map of my hike (at the bottom of this post) it looks like this was just one face of the hill, and the actual summit trail and summit was still some ways away to the east of where I climbed. So I'll have to visit again. Along the way to the top, I found a huckleberry bush with a few ripe fruits. They were delicious. A short trail connects what I thought was the summit trail to the eastern edge of the park loop trail, along the top of Brown Elfin Knob. This trail goes through a large population of mountain laurel mixed with rhododendron and another large population of vaccinium bushes, mainly huckleberries this time. It is an easy trail and shorter than I expected. The summit is insignificant; time was when this small hill would have been topped with an observation tower but insurance costs have eliminated most such towers from American public lands. It's less a brown elfin knob than a brown elfin gentle-rise-in-the-landscape. The last portion of the loop trail runs beside two fish ponds and features more typical lowland species including canebrake and boxelder, which weren't anywhere else in the park including along the river. If you forgot the bug spray back when you got out of the car at the start of the hike, this part is really going to be unpleasant. But it's flat, so you could run. Think of the bugs as zombies. In a way, they are... This was a very enjoyable hike and particularly interesting for the large variations in forest type given the small area. I hiked 2.7 miles including my short vertical ascent, though there are at least another 2 miles of trails in the park. These trails are probably among the most strenuous in the Triangle (though very easy relative to a typical trail in the mountains). Also they have the most available forage, if for some reason you get lost and need to survive in the wilderness for a while...although you could just follow the sound of traffic and be standing next to I-85 in half an hour or less.
I drove all the way to Hillsborough for this hike and didn't think to stop at a winery or a brewery (Mystery Brewing is there and you should totally stop in because they rock). But I have to go back to do the rest of the trails sometime, so I can make up for this tragic oversight.