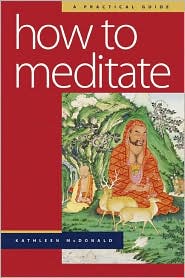 This book is what it says: a guide on how to meditate. Starting from the absolute basics and moving into the more esoteric (and difficult) meditations, Kathleen McDonald leads readers step-by-step through what exactly meditation is, and how it's done.
The book is not meant to be read at a sitting and put back on the shelf. I went ahead and read the whole thing, but I'm still working at the most basic meditations, on the breath and on the clarity of the mind. It will take me some time be able to move past those meditations.
McDonald is a practicing Buddhist, and the book is written from the Mahayana perspective (Tibetan Buddhism). That doesn't mean it isn't accessible to anyone; McDonald even notes in later chapters describing meditation upon a particular Buddha that it's perfectly to meditate on Christ, for example. The point is not the specific belief structure behind meditation; the point is to meditate it all, to clarify the mind and permit the practitioner to live in the present and be more thoughtful and positive all the time, and one needn't be a Buddhist to benefit from meditation.
For myself, I would consider the book nearly indispensible, and it will be on my bookshelf to be reread, piece by piece, for a very long time.